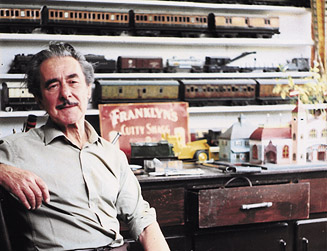 RONALD GEORGE WHEELE 1921-1998

Introduction
The Ron Wheele collection was assembled in over 40 years of knowledgeable acquisition.
Ron Wheele was one of the pioneers of transport preservation in all its forms. He owned and flew a vintage Tiger Moth, which his family continued to fly. He was one of the first enthusiasts to acquire a full size locomotive from British Rail in the 1960's, namely an ex LBSCR Terrier tank named 'Bodiam', currently based at Tenterden, which spent its last post Southern Railway days in Eastleigh. This locomotive is still preserved on the Kent and East Sussex Railway where it worked for many years. A full size steam roller and a 30ft vintage yacht 'White Heather' (whose 50ft mast towered over the yacht harbour at Shoreham for many years) were actively steamed and sailed over Ron's long and productive life.
Amidst all this activity Ron Wheele became one of the country's most skilled restorers of vintage toy and model trains. His enthusiasm for the subject ranged from a superb 5" gauge Southern Railway LI right through all the historic gauges and manufacturers such as Bing, Marklin, Bassett Lowke, Hornby and many of the lesser known British makers. He carried out work for a selective band of collectors and did some superb work for the London Toy & Model Museum during its heyday in the l980's. The collection includes at least four versions of Bing's classic 'Black Prince' type, which really denoted the start of the great association of Bing with Bassett Lowke at the turn of the last century. A rare gauge 1 'Charles Dickens' by Marklin c1906 together with a later example of Marklin's British style output, the rare and highly collectable 5XP. Most of the locomotives in the collection are complemented by contemporary rolling stock. Brooks' sale of the collection brought to the market one of the best and most comprehensive British outline collections seen in recent years.